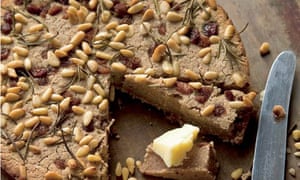 Castagnaccio
Castagnaccio is a traditional cake from Liguria in Italy. Its especially good with coffee and can be enjoyed warm or cold and at any time of the day. As a dessert, serve it with organic ricotta or mascarpone and a little raw honey. It contains no gluten or raising agent, so it won't rise like a traditional cake. Instead, it's dense and rich without being too sweet.
Chestnut flour is known in Italy as farina dolce for its sweet, rich flavour. Made from dried, milled chestnuts, it was once a very important source of nutrition to peasant communities in France and Italy. Today, it's something of a delicacy and well worth tracking down. You can buy organic chestnut flour from shipton-mill.com (£3 for 500g).
A word on keeping chestnut flour – don't. Or at least not for very long. Buy in smallish quantities – enough to keep you going for a month or so – and keep it refrigerated and used as quickly as possible as natural oils in the flour will quickly turn rancid in a warm kitchen.
Core recipe
65 g walnuts (soaked for 4 hours)
65 g raisins or sultanas (soaked in 370ml of water for at least an hour (set aside the water for cake mixture))
250 g  chestnut flour
1 pinch sea salt
1 tbsp fresh rosemary leaves (to taste)
2 or 3 tbsp olive oil (extra-virgin)
Optional ingredients
2 tbsp raw cacao
30 g  pine nuts (soaked for 4 hours)
1 tbsp Orange zest (to taste)
1.5 tbsp maple or date syrup
How To:
Soak the nuts in a bowl of filtered water for at least 4 hours. Drain and discard the water.

Soak the dried fruit for at least an hour, drain and reserve the water.
Preheat the oven to Fan 170°C/338°F/Gas Mark 5
Brush a 22cm springform cake tin (or similar) with some of the oil or line a baking tray (2.5cm deep) with baking parchment

Sieve the flour into a large bowl and whisk in the salt, syrup and zest (if using)

Gradually add the water from the dried fruit, whisking continuously to avoid lumps forming. The batter should be a smooth paste – not too runny or thick – and fall from the spoon in ribbons.
Mix in any syrup (is using) and pour the mixture into a the prepared baking tray.
Sprinkle the nuts, raisins and rosemary evenly over the surface and press them lightly into the batter.
Bake in the oven for 30 minutess or until the top begins to crack and brown.
Allow the cake to cool slightly before drizzling with olive oil.
Tip
Serve with some organic ricotta (omit for a DF version) and a drizzle of raw honey
Sourced from: